Regular price
Sale price
$47.95 CAD
Unit price
per
Sale
Sold Out
size  
8" X 22" with poly cotton tie closures to maintain positioning.
Product Description
MediBeads Moist Heat Neck Wrap by Bruder Healthcare
Please note: due to hygiene issues this item can not be returned
PLEASE NOTE: This heating pad should not be microwaved with the cover on
.


The MediBeads Neck Wrap is designed to provide moist heat therapy for your Neck and Shoulders.
Designed to comfortably drape around the neck and between the shoulders to reach the lower neck muscles. Helps prevent and treat neck pain, tension and stress.

Helps relieve aches and pains in the neck, shoulders and upper back.

8" X 22" with poly cotton tie closures to maintain positioning.

MediBeads are washable, odor-free, dust free, and will not support bacteria or fungal growth.

Unlike other grain and pellet products, MediBeads need no special covers, they will not dry out, dissolve or disintegrate.

When microwaved, MediBeads draw moisture from the air and release it as clean, deeply-penetrating moist heat - no need to add water.

Front reduces to approximately 3" while the back is approximately 8".

Wrap can be hand washed without affecting product performance and is recommended that it be washed with mild detergent in cold water and air-dried for 24 hours.

Beads are made of all-natural materials and are non-toxic.
Immediate and Continuing Pain Relief
Because MediBeads Wraps are ready for use in just a minute and are applied directly to the site of pain, relief begins immediately. The wraps continue to deliver therapeutic moist heat for up to thirty minutes. This is the medically recommended treatment time for heat therapy within a three to four hour period. MediBeads recharge quickly and can be used again as necessary. 
Clean and Odor Free
Through a patient pending process, the OrthoBeads in MediBeads continuously recharge by absorbing only water molecules from the air. Adding water is not necessary. The absorbed water is held, purified and released as clean moist heat when the MediBeads Wrap is microwaved. The result is a bacteria and odor-free wrap. MediBeads Wraps are washable, so no special covers are required. 
Safe
When removed from the microwave, the temperature of MediBeads Wrap does not increase. This prevents inadvertent burns, which are caused by the continued temperature increase (cooking) prevalent in all gel packs. Microwave activation eliminates potentially dangerous use of boiling water, electricity or ovens. MediBeads are non-toxic and environmentally friendly. 
Easy to Use and Portable
Unique wrap designs offer excellent conformance to body contours while allowing full mobility during treatment. This portability enhances range of motion exercises and permits therapy to continue while on the go. Natural hydration eliminates messy sponges, cloths or towels. 
Value
MediBeads Wraps are an excellent value. They are well-constructed of specially chosen materials and, with proper use, will give many years of service. 

While covers are NOT necessary for use with MediBeads Moist Heat Wraps, you can purchase the MediBeads Cover - Neck Wrap machine-washable cover, which is a convenient addition in multi-user environments. 

*PLEASE NOTE: This heating pad should not be microwaved with the cover on.
see below link other size are available
Share
View full details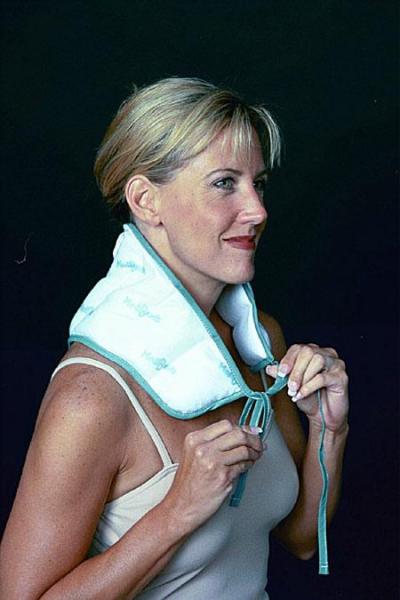 Shipping Explained

We offer free shipping in Canada on orders over $50.***

***Please note that very heavy/large orders are excluded from free shipping, shipping charges may apply on these orders. Shipments to remote, air stage, or rural locations may incur additional shipping charges, as well.

Return Policy

To be eligible for a return, your item must be unused and in the same condition that you received it. It must also be in the original packaging. We cannot resell an item that has been used extensively thus we cannot offer a full return on these items.