Regular price
$590.00 CAD
Regular price
$649.00 CAD
Sale price
$590.00 CAD
Unit price
per
Sale
Sold Out
EMPI X Direct Tens - 2527116
3 year Manufacturer Warranty DJO
Direct TENS™ is a transcutaneous electrical nerve stimulator. Transcutaneous electrical nerve stimulation (TENS) uses electrical pulses that are delivered through the skin to the cutaneous (outer) and afferent (deeper) nerves to alleviate pain. Contrary to medication and cream used on the skin, there are no known side effects resulting from TENS therapy.
Via electrodes attached to the skin, Direct TENS™ sends electrical pulses to the nerves. This will block the pain impulses. Four electrodes – two for each channel – can be connected to the device. Pain relief is most efficient during stimulation, but the effect can last after the treatment. Additionally, the TENS treatment increases the blood circulation. You can use Direct TENS™ at any time for pain relief and muscle relaxation. Each therapy session should last 30 minutes minimum and can be continued for several hours.
Features
Dual channel hand held device, easy to use and easy to carry
13 Programs for flexibility and diverse treatments
5 quick select keys to easily choose an indication related program
Large easy to read LCD display
An integrated therapy timer function
Detachable belt clip
An illustrated guide to suggested electrode placement for different treatments
A detailed user guide for guidelines and treatment recommendations
The keys automatically lock, preventing inadvertant changes to the treatment parameters
Direct TENS™ Applications
Joint pain (e.g. knee, hip arthrosis)
Chronic pain originating in the spine
Degenerative diseases of the musculoskeletal system
Tension headache
Radiating pain (e.g. back pain, cervicobrachial syndrome)
Amputation stump/phantom limb pain
Pain from rheumatic diseases
Programs
P1 ELF (Extremely Low Frequency) TENS - 0.5Hz
P2 Double Pulse - 20Hz
P3 High Frequency - 1000Hz
P4 Bi-Modual - Ch.1 = 100 HZ, Ch. 2 = 4 Hz
P5 Burst with Alternating Work and Rest - W. = 100Hz, R. = 0Hz
P6 Burst with Longer Work and Rest - W. = 100Hz, R. = 0Hz
P7 Decreasing Intensity - 100Hz
P8 Random Modulation - 2 - 150Hz
P9 Continuous - 2 - 150Hz
P10 Classic Burst - W. = 2 - 150Hz, R. = 0Hz<
P11 Mixed Frequency - Ph. 1 = 2 - 150Hz, Ph. 2 = 50% of work frequency
P12 Multi- Modulation - 2 - 150Hz
P13 Simple Modulated Pulse - 2 - 150Hz
Standard Accessories
User Manual - 880043
Set of 2 Leadwires - 193068
2 AA Alkaline Batteries - 1551
Dura-Stick 5x5 CM Square Electrodes (4 Electrodes Per Pack) - 42190
Small Empi Pouch - 66800637
Technical Specifications
Waveform: Asymmetrical Biphasic 100% Compensated
Number of Channels: 2
Number of Programs: 13
Constant Voltage: Up to a resistance of 1000 ohms
Maximum Amplitude: 40mA @1000ohms, 250 μs
Output Intensity: 0-60, adjustable in 0.5 steps
Max Pulse Duration/width: Up to 250 μseconds
Max Frequency: 1,000 Hz
Power Source: 2 x 1.5V AA Batteries or 2x 1.2V AA rechargeable batteries
Dimensions*: 110 x 70 x 30 mm
Weight: 165 g (Including batteries)
Electrical Safety Class: Class IIa, Type BF
Safety Test: EC 60601-1, IEC 60601-1-2
The Empi Direct TENS bears the CE marking CE-0473 (Notified Body: AMTAC Certification Services Limited) showing that it complies with the Council Directive 93/42/EEC as amended concerning medical devices and fulfils the essential requirements of Annex I of this directive. It has an internal power source and is classified as IIa equipment (MDD).
The Empi Direct TENS fulfils the requirements of the standard EN 60601-1 "Medical electrical equipment, Part 1: General requirements for safety" as well as the immunity requirements of the standard EN 60601-1-2 "Electromagnetic compatibility - medical electrical equipment
Share
View full details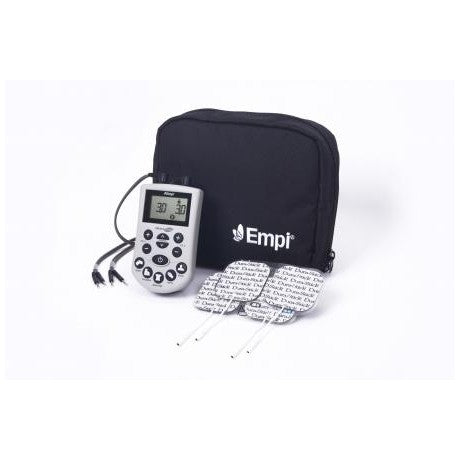 Shipping Explained

We offer free shipping in Canada on orders over $50.***

***Please note that very heavy/large orders are excluded from free shipping, shipping charges may apply on these orders. Shipments to remote, air stage, or rural locations may incur additional shipping charges, as well.

Return Policy

To be eligible for a return, your item must be unused and in the same condition that you received it. It must also be in the original packaging. We cannot resell an item that has been used extensively thus we cannot offer a full return on these items.