Regular price
$69.00 CAD
Sale price
$59.99 CAD
Unit price
per
Sale
Sold Out
 CDLx Rinse 4 x 425 ml (4 bottles)  #40424
CDLx System contains sodium chlorite, which reduces the number of gm negative anaerobic bacteria and the mouth odors that these bacteria produce by affecting bacteria's ability to metabolize protein in the mitochondria. As an additional benefit, Xylitol is added. Bacteria chose Xylitol over regular sugar but they can not digest it so they do not thrive so it also helps to prevent tooth decay. Acidified sodium chloride mouth rinses have been shown to have significant reductions in bacterial counts that could last up to 7 hours.
MINT FLAVOUR
PLEASE NOTE THIS IS NOT A DRINK - IT IS AN ORAL RINSE.
Introducing Oravital CDLx antimicrobial oral rinse!
CDLx is a sodium chlorite (stabilised chlorine dioxide) based oral rinse, sweetened with Xylitol for additional antibacterial power. This Canadian-made professional product has been used exclusively in Oravital Certified dental clinics for 5 years, and now is available to the public. CDLx is highly recommended for those with mild persistent breath problems, and for overall improvement in oral health.
As an additional benefit, Xylitol, used as a sweetening agent in CDLx, has been shown as a preventative agent in tooth decay.
Many of our clients with low to medium breath problems have benefited from using CDLx rinse as part of their daily routine. CDLx contains no alcohol or aspartame, and will not stain teeth or dentures even with regular use. It is an excellent, dentist-recommended alternative to CloSYS-II.
Oravital CDLx recommended as an alternative to CloSYS rinse
As you may have heard, CloSYS products will no longer be available in Canada. Oravital Inc produces an excellent alternative in CDLx, a sodium chlorite rinse that has been used with success in many of our certified clinics. We have prepared the following information for your evaluation.
 
CDLx ingredients Purified Water, Xylitol, Sodium Citrate, Polysorbate 20, Mint Flavour, Sodium Bicarbonate, Citric Acid, Zinc Acetate, Sodium saccharin, Sodium Chlorite, RD&C Blue 1
CloSYS ingredients Water, Stabilized chlorine dioxide, Trisodium phosphate, Citric acid, Flavour (contains natural mineral oil and natural peppermint oil).
Properties of Sodium Chlorite and Stabilized Chlorine Dioxide Mouth Rinses.

In the list of ingredients, CDLx has sodium chlorite as the active ingredient and CloSYS uses stabilized chlorine dioxide. What is the difference between the two compounds?

Stabilized chlorine dioxide is a solution of sodium chlorite, a primary ingredient in several mouthwashes and toothpastes including CloSYS. Manufacturers of sodium chlorite mouth rinses often refer to the main ingredient as stabilized chlorine dioxide.

Stabilized chlorine dioxide is prepared by buffering sodium chlorite with carbonate or phosphate, and hydrogen peroxide. Oravital CDLx has the buffering and acid components listed on its label.
Acidified sodium chlorite mouth rinses have been shown to have significant reductions in bacterial counts that could last up to 7 hours. (Fernances-Naglik L et al. Oral Diseases 2001 Sep:7(5):276-80).
Mode of Action

Sodium chlorite/stabilized chlorine dioxide products are oxidizing agents that create an aerobic atmosphere thus reducing numbers of anaerobic bacteria. These products also neutralise volatile sulfur compounds.
Oravital CDLx Mouth Rinse
Oravital CDLx is recommended by many Oravital Certified Clinics as an excellent alternative to CloSYS rinse. The mode of action is similar for both products. Xylitol and its action on Streptococcus mutans is an additional benefit of CDLx.
The cost of CDLx to the dental practice is considerably less than CloSYS. CDLx is a Canadian-made product, manufactured in Ontario, assuring professional quality, fast order turnaround and uninterrupted supply.
Anne Bosy RDH, MEd, MSc
Senior Vice President, Scientific Affair
Share
View full details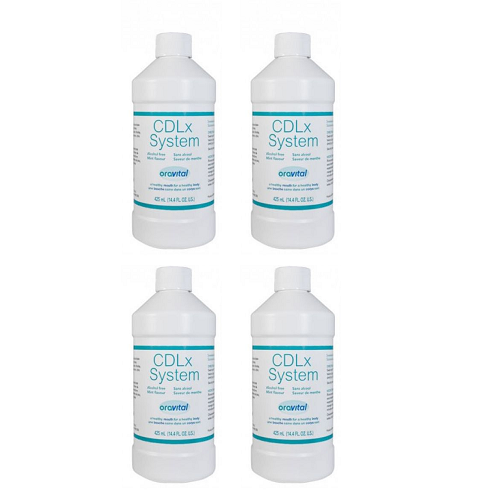 Shipping Explained

We offer free shipping in Canada on orders over $50.***

***Please note that very heavy/large orders are excluded from free shipping, shipping charges may apply on these orders. Shipments to remote, air stage, or rural locations may incur additional shipping charges, as well.

Return Policy

To be eligible for a return, your item must be unused and in the same condition that you received it. It must also be in the original packaging. We cannot resell an item that has been used extensively thus we cannot offer a full return on these items.