Regular price
Sale price
$46.99 CAD
Unit price
per
Sale
Sold Out
3000 Professional TENS Unit for Pain Relief w/ Carrying Case, Electrodes, and Battery and 3 Customizable Modes
Free Shipping in Canada 
Dual Channel, 3 Modes, Timer, Safety Amplitude Cap. The TENS 3000 is a high quality TENS unit that uses the newest technology of a microprocessor, which gives exact dial performance. The TENS 3000 has the ease of operation of an analog unit with the accuracy of a digital unit! The TENS 3000 comes standard with a Safety Amplitude Cap, which is a transparent pivoting cap that closes over the amplitude knobs to help protect the user from power jolts from accidental knob movements.
 
 
Features:
Dual Channel, 3 Modes, Timer, & Safety Amplitude Caps
3 Mode: Burst, Modulation, Constant
Microprocessor Technology for precision dial performance
Pulse Width: 30-260(uS)
Pulse Rate: 20-150(Hz)
Wave Form: Asymmetrical Bi-Phasic Square Pulse
Timer: 15,30, Constant
Product Description
The Tens
-3000 Professional TENS Unit works with up to 4 Electrode Pads to treat your pain areas on the body quickly and effectively.
 This 
FDA Approved
 TENS Unit has 3 Medically Proven Treatment Modes and is both 
Safe and Effective
. TENS Units are used to relieve all types of pain - back, foot, shoulder, neck, virtually any acute or chronic pain. It does this by overriding the pain signal to the brain through electrical impulse. And the best part about it is that the results are IMMEDIATE. You will know what setting is working best for you.
What that means to you is that 
whether your pain originates in the upper of lower back, neck, foot, shoulders, elbow, virtually every area on your body,
 you will get fast pain relief - within minutes. TENS Units has helped thousands of patients get back to the activities that they enjoy - a much better quality of life.
The Tens-3000 Professional TENS Unit overrides the pain signal to the brain. by sending a comfortable electronic impulse.
 When the LG-3000 TENS Unit overrides the pain signal, it "tricks" the brain into thinking their is NO PAIN. This produces 
Fast and Rapid Pain Relief
, usually within a minute or two!
The Tens-3000 TENS Unit allows you to control and 
customize the intensity, pulse rate, and pulse width
 to find the best setting for your pain relief - 
just like in the therapists office. 
This is one of the the most 
cost effective and safest solutions
 that exists for pain. As a matter of fact, customers have told us they have drastically cut down or eliminated their pain medication and doctor visits with the utilization of this device.
Simply place the four electrodes on or around the area of pain, turn on the device and adjust the pulse width and rate to what feels good to you.
The Tens-3000 is 
small and easily portable
. Put it on your belt or in your pocket. It works off a standard 9 volt battery. The Tens-3000 has a 1 Year Warranty and Satisfaction Guarantee.
Order the Tens-3000 TENS Unit Today and get fast, 
PRIORITY 3 to 6 Days Shipping.
 The Tens-3000 comes with a 
Satisfaction Guarantee and 1 Year Warranty
. There is nothing to lose - except 
relief from the pain
 that is interfering with your life. 
Don't accept imitations
,
The Tens-3000 TENS Unit Pain Relief System includes:
Tens-3000 Dual Channel Analog TENS Unit
Hard Carrying Case
4 2 x 2 Inch Square Electrode Pads
3 Effective Treatment Programs
9 Volt Battery
Lead Wires
3 Programs and Modes
Instruction Manual
Optional: Conductive Electrode Prep Spray (prolongs electrode life), Recharger and Rechargeable 9 Volt Battery, and Extra Electrode Pads.
Optional Items
 you may wish to order with the unit include:
Extra Electrode Pads The unit comes with 4 Electrode Pads that last 20-30 times. At some point you will need additional electrodes so be sure to purchase some extras today!
Want to hear what our customers say? Read the patient testimonials below. We would love your feedback as well.
About Pain:
Pain is a warning system and the body 's method of telling us that something is wrong. Pain is important; without it abnormal conditions may go undetected, causing damage or injury to vital parts of our bodies. Even though pain is a necessary warning signal of trauma or malfunction in the body, nature may have gone too far in its design. Aside from its value in diagnosis, long-lasting persistent pain serves no useful purpose. Pain does not begin until coded message travels to the brain where it is decoded, analyzed, and then reacted to. The pain message travels from the injured area along the small nerves leading to the spinal cord. Here the message is switched to different nerves that travel up the spinal cord to the brain. The pain message is then interpreted, referred back and the pain is felt.
Transcutaneous Electrical Nerve Stimulation (TENS) is a non-invasive, drugfree method of controlling pain. TENS Units use tiny electrical impulses sent through the skin to nerves to modify your pain perception. In most patients it is effective in reducing or eliminating the pain, allowing for a return to normal activity.
In many patients, the reduction or elimination of pain lasts longer than the actual period of stimulation (sometimes as much as three to four times longer). In others, pain is modified while stimulation actually occurs.
TENS Units are used to control chronic and acute pain including Rheumatoid and Osteo-arthritis, Back pain, Menstrual Pain, Labour Pain, Peripheral Nerve Injuries, Shingles, Headache and Migraine, Cancer Pain, Trigeminal Neuralgia, Phantom Limb Pain, Sports Injuries, Sciatica, Aching Joints, Post Operative Pain, Muscular Pain, Whiplash and Neck Injury and many other painful conditions. It is simple and easy to use. Four Electrode Pads are placed near or around the areas in pain. Because it is Dual Channel, you can use 2 or all 4 Electrode Pads at the same time. You control the pulse width, pulse rate, and intensity and in just 20 minutes per day you will experience dramatic pain relief!



When using a TENS Unit it is important that you:
Place Electrodes on or around where you are experiencing pain
Change the batteries when needed
Vary the controls and settings (both the frequency and voltage)
Set the proper duration and intensity of the stimulation (which depends on the location and type of pain)
Follow instruction manual


Low Frequency: The lower frequencies, 2-5 Hz, are believed to cause the body to react. The reaction creates natural painkillers, or endorphins. The endorphins block the pain naturally and while popular, this isn't the usual method of using TENS.

High Frequency: For more intense pain, higher frequencies, 90-130 Hz, work to actually interrupt those pain signals being sent to the brain. This is the most common use for the machine and while you start slow, it's not uncommon to need to up the frequency to find the best block.
you may intrested on other Tens unit see below link
Share
View full details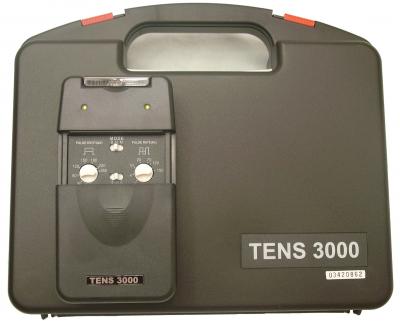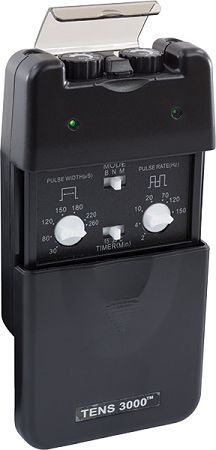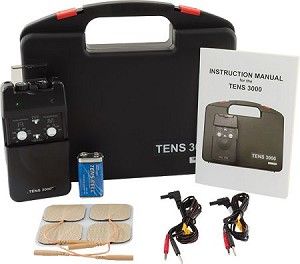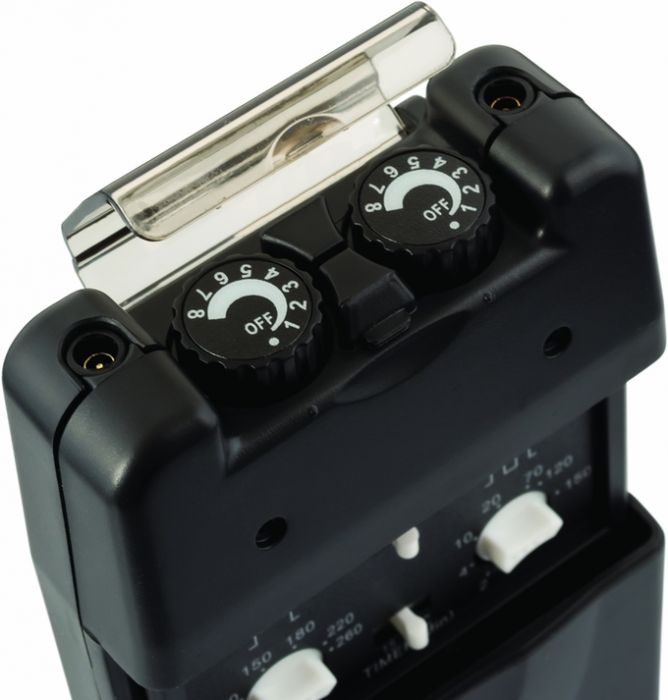 Tens 3000
Great product, saved money by ordering from your company on line.
Great little machine!
I received my Tens 3000 right on time and am very happy with it. The instructions are easy to follow, and the machine works like a charm.
Shipping Explained

We offer free shipping in Canada on orders over $50.***

***Please note that very heavy/large orders are excluded from free shipping, shipping charges may apply on these orders. Shipments to remote, air stage, or rural locations may incur additional shipping charges, as well.

Return Policy

To be eligible for a return, your item must be unused and in the same condition that you received it. It must also be in the original packaging. We cannot resell an item that has been used extensively thus we cannot offer a full return on these items.